Placido Domingo interprete Pablo Neruda à l'Opéra - First Look: Placido Domingo as Pablo Neruda for The Los Angeles Opera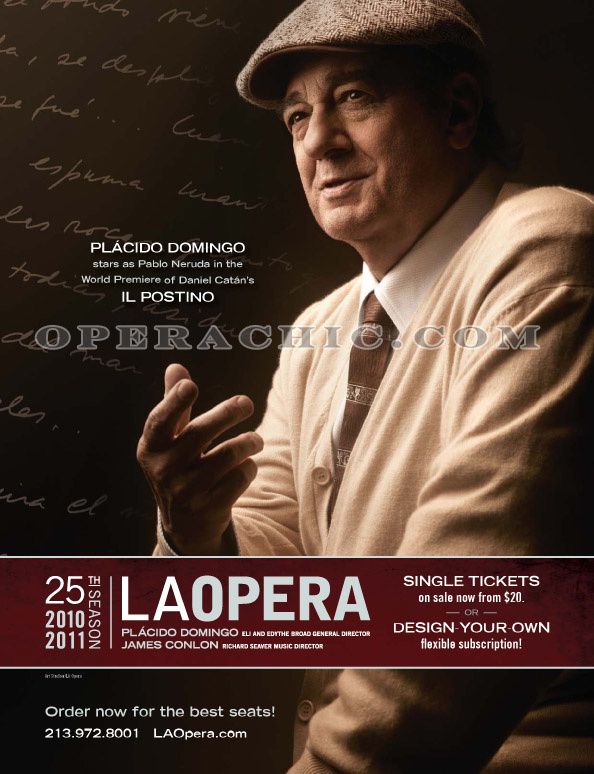 First Look: Placido Domingo as Pablo Neruda for The Los Angeles Opera
Since it was announced in January, we've been sweating The Los Angeles Opera's incoming season, mainly for the world premiere of a new L.A. Opera commission, Il Postino (and speaking of new opera, if you missed The Washington Post's recent, excellent pieces on new commissions, written by Anne Midgette, Part I is here and Part II is here).
Il Postino has been inspired by the 1994 film, The Postman, (and adapted from the novel Ardiente paciencia by Antonio Skármeta) Mexican composer Daniel Catán will have the honor of opening L.A. Opera's 2010-11 season in September with his brand-spanking-new Spanish-language opera and libretto. Tenor Charles Castronovo will sing the lead Mario Puoppolo (Rolando Villazon was originally cast but then he pulled out), while Placido tackles the juicy role of Chilean poet Pablo Neruda; Chilean soprano Cristina Gallardo-Domâs will sing Matilde Neruda.

Opera Chic shares this exclusive first look at Los Angeles Opera's banner of Il Postino, which will appear on the First Street side of Dorothy Chandler Pavilion. Photographed by Los Angeles-based photographer (and opera fan) Art Streiber, whose photos have graced Vanity Fair and our beloved W Magazine, it's Placidone as Neruda (as Philippe Noiret).
Click the link below for the first look!
Commentaires